What is Strategy? It Starts with the Kernel
Mastering Business Success
by Gary Rushin, CPA | CGMA
Entrepreneurs must understand what strategy is. Think about it. Operating haphazardly without comprehending what it is is like driving a vehicle what knowing the destination or knowing the locations of hazards. YOU WILL CRASH.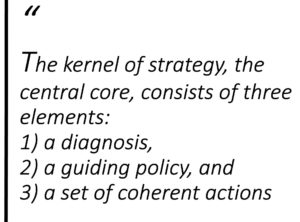 What do we mean by strategy? Many what answer, "Strategy is whatever you want it to mean." Unfortunately, today it is a catchall word. Every executive uses the word strategy from "service strategy," "acquisition strategy," "branding strategy," "competitive strategy," or whatever strategy one has in mind. But for those who think through the meaning of strategy, whether it is a CEO of an established firm, division president, or entrepreneur, strategy integrates an overarching concept of how the business will achieve its objectives. Accordingly, it is an action supported by argument, a mixture of thought and works with a basic underlying structure.
Too often many draw on Porter's Five Forces Analysis to think of strategy as a matter of selecting industries and segments within them. Others dwell in game theoretical frameworks as a set of choices about confronting with adversaries and allies. When adding in core competencies, hyper-competitiveness, value chains, and other powerful tools, what is missing is the hub…strategy. And let us not be fooled that a strategy consists of a template outlining a mission statement, a vision statement, and financial projections to make up the strategy. AGAIN, YOU WILL CRASH.
Let us step back and look at strategy. The kernel of strategy, the central core of good strategy, consists of three elements: 1) a diagnosis, 2) a guiding policy, and 3) a set of coherent actions. You must define or explain the nature of the challenge, which is the diagnostics of the issues. In dealing with the task, design a guiding policy that is an overall approach to coping with or overcoming the identified obstacles. Finally, a set of coherent actions in carrying out the guiding policy in steps that coordinate with one another to meet the objectives. Otherwise is get bad strategy.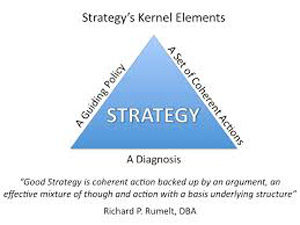 So many companies have multiple goals and initiatives that do not have a coherent approach to achieve progress, other than spending more and trying harder to fail. This was the case of Apple Computer before the return of Steve Jobs. Under Gil Amelio, Apple had multiple goals and initiatives through four business groups: Macintosh, printers and peripherals, information appliances, and alternative platforms. Apple was hemorrhaging cash. Steve Jobs retrenched Apple to a single goal and initiative by simplifying the company to its core competency. The move staved off Apple from falling into bankruptcy. Apple was shrunk to scale and scope, as a niche producer, with one line of Macintosh computers. Steve Jobs had to develop the kernel first to combat the obstacles the company faced.
GARY S. RUSHIN, CPA | CGMA 
Gary Rushin is an American thought leader in the areas of entrepreneurial wealth creation.  His business foundation started in international commercial and investment banking and corporate bankruptcy and restructurings.  Gary has global experience in the U.S., China, Ghana and India.  Gary's leveraged his strong understanding business, processes, technology, accounting and finance, and business development to advise organizations.  Gary is a Certified Public Accountant and Chartered Global Management Accountant.  In addition to holding a Bachelors of Business Administration, Gary has a Masters of Computer Science where has emphasized artificial intelligence and software development. Whether you have a start-up, retail store, technology firm, manufacturer, and service company, Gary can help you.