"Pivot," Making a Business Course Correction
"Pivot," Making a Business Course Correction
Entrepreneurs Must Recognize When it is Time to Change Strategy

by Gary Rushin, CPA | CGMA
There's some understandable concern these days about taking corrective action. The key word is to Pivot! Do not be concerned. Make a pivot change in the direction of the company when you identified that the company is heading in the wrong direction. Learn, apply, and progress by starting first with a good strategy. Trust in yourself and have the confidence to make things happen. Develop a commitment to effectively executing change. Through a good strategy will enable you to make the pivot for transformation that provides results.
It starts w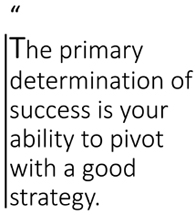 ith a good strategy. The good strategy almost always appears as simple. However, the strategy does more than advancing a strategic goal or vision. Developing a good strategy acknowledges the challenge. A good strategy creates an approach to overcome obstacles. However, a bad strategy tends to skip over this little details. Surprised, this is the reality!
Look at the retailers that appear to have been impacted by the "Amazon Affect." We have Toy "R" Us, Perfumia, Sears, K Mart, and JC Penny all required a restructuring. Then we have Walmart, Kohls, and Dollar General that pivoted to confront the competitive challenge.
Are your standards, objectives, and strategies aligned? Well, begin the process to pivot. Think of recommended areas that may need corrective action:
Standards. You have three courses of action: do nothing; attempt to correct the actual performance, or possibly revising the principles. Your company's benchmarks may be too low or too high.
Objectives. We live in an ever-changing environment. The regulatory or market can change, the competitive landscape moved, and pricing pressure or the scarcity of resources has evolved.
Strategies. With changes in the standards and objectives requires adjusting your approaches.
The bad strategy builds upon a weak foundation. The bad strategy covers up failure to provide a map through the use of showing only the broad goals, ambitions, visions, and values. Despite the fact that these areas of importance, it is not a substitute for the work of developing a comprehensive strategy.
So, what is a good strategy? Do not confuse strategy with ambition, inspirational leadership, determination, and innovation. Zeal, drive, and excel is ambition. Motivation, building enthusiasm, gain a following for inspirational leadership. And commitment, grit, and purpose should be the objective.
According to UCLA professor Richard P. Rument, a good strategy has coherence, coordinating action, policies, and resources to accomplish an acceptable end. Know this before you get started. The seed of good strategy begins by understanding the kernel, which includes:
1) Perform diagnosis of the truth. It is about simplifying the complexity of reality. Often overwhelming, to determine an assessment requires the need to be drilled down to the core.
2) Develop a guiding policy. Deciding to overcome or cope with the situation.
3) Create a coherent set of actions. Develop the steps needed to overcome or deal with with the situation.
You must decide whether your strategy is also good enough to compete.
Although you can pivot, you must try to avoid zig-zagging. When you decide on a direction in this ever-changing environment, take action. The primary determination of success is your ability to pivot with a good strategy. Then the company's horizon broadens. Commitment to a strategy will allow you to fund better that effort to achieve a higher return on investment.
GARY S. RUSHIN, CPA | CGMA 
Gary Rushin is an American thought leader in the areas of entrepreneurial wealth creation.  His business foundation started in international commercial and investment banking and corporate bankruptcy and restructurings.  Gary has global experience in the U.S., China, Ghana and India.  Gary's leveraged his strong understanding business, processes, technology, accounting and finance, and business development to advise organizations.  Gary is a Certified Public Accountant and Chartered Global Management Accountant.  In addition to holding a Bachelors of Business Administration, Gary has a Masters of Computer Science where has emphasized artificial intelligence and software development. Whether you have a start-up, retail store, technology firm, manufacturer, and service company, Gary can help you.