Astute entrepreneurs master business success
by Gary Rushin, CPA | CGMA
It is not your fault that the company is failing.   You recognized that there is a problem and took action.  But the problem does not go away.  The company is still drifting in the wrong direction--downward.  And, we have read about the business successes in blogs, books, papers, and general business readings.  We have done everything right; We have read about business successes; We have studied the successful business icons of today.  Coupled with the fact that we have followed the learning paths recommended by most business schools.  However, we need to learn about business failure.  Yes, failure!  Studying business failure should be a "best-practice" of entrepreneurs and business management.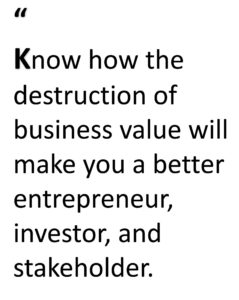 Once I had mentioned at a business forum that I need to study "failure." The look I received was of shock and puzzlement.  Why would you want to master failure and not the successes of entrepreneurs like Steve Jobs?  Apparently, they missed the point.  Yes, studying the achievements of Steve Jobs is important, but equally significant is to master failures of start-ups and mature companies to identify missteps, symptoms, causes, and the reasons organizations came and went.  Remember Steve Jobs studied the business failure of Apples' previous management led by John Scully upon his return to Apple. One tried not to make the same mistakes twice.  Understanding how to move past corporate failure will breed productivity and success.
Look at the current state of the retail sector.  It is under siege.  The bankruptcies of Sears Canada, RadioShack, The Limited, HH Gregg, Payless Shoes, Perfumia, Gymboree, Gander Mountain, and Toys R Us give pause to look at these failures.  Some would call it the "Amazon Affect," whereas others say that management failed to stay abreast of the changing market dynamics and technology in executing their strategic moves.  
Think about it, NASA studied its mistakes to make corrections with the space shuttle program. Pharmaceutical companies and financial services companies reviewed how product design failure take place to make improvements, and hospitals study their service offering to improve the quality of healthcare service. Even if you are an Internet marketing professional preparing for a new product launch, a successful-companies create value for shareholders, customers, and other constituents from learning from business failure.
Know how the destruction of business value will make you a better entrepreneur, investor, and stakeholder.  Yes, the studying the phenomenon of business failure can create value, a return on investment, by understanding the fundamental causes behind enterprise breakdown.  Naturally, in situations where the average person's decision dictates turning "right," your knowledge of past mistakes compels you to move to the "left."  Some will criticize this decision.  But they do not know that your instinct to rely on past mistakes guide you to a more comforting decision move.  Mastering business failure before starting the business strategy process will enable you to avoid common missteps.
Business failure does not end in bankruptcy liquidation.  In the event a company declines in value and is considered worthless, the enterprise failed from the perspective of the owner.  However, the business or the assets of the firm in the hands of others may result in the re-creation of value, jobs, and new business in the eyes of customers, suppliers, and employees.
When discussing business failure, I mean that the company has fallen short of its goals, thus failing to satisfy investors' expectations.   Business failure involves the loss of capital and the inability to make the business successful.  With the fall in revenues and the rise in expenses, the company cannot continue to operate under ownership and management.
GARY S. RUSHIN, CPA | CGMA 
Gary Rushin is an American thought leader in the areas of entrepreneurial wealth creation.  His business foundation started in international commercial and investment banking and corporate bankruptcy and restructurings.  Gary has global experience in the U.S., China, Ghana and India.  Gary's leveraged his strong understanding business, processes, technology, accounting and finance, and business development to advise organizations.  Gary is a Certified Public Accountant and Chartered Global Management Accountant.  In addition to holding a Bachelors of Business Administration, Gary has a Masters of Computer Science where has emphasized artificial intelligence and software development. Whether you have a start-up, retail store, technology firm, manufacturer, and service company, Gary can help you.